March 12th, 2014
by admin
A 
developing situation
 in Manhattan:
A building collapsed in East Harlem on Wednesday morning and the authorities said they were responding to reports of people trapped in the rubble, according to fire officials.Witnesses reported hearing what sounded like an explosion before the building collapsed. Flames and smoke could still be seen billowing from the street, and video from the scene showed broken windows in neighboring buildings.
As usual, early reports contain a lot of uncertainty; according to NY1, the fire department has confirmed 11 minor injuries. Debris on neighboring elevated train tracks has forced the suspension of service into Grand Central Terminal on the Metro-North commuter rail.
Full Story
by admin
attribution: REUTERS
House Speaker John Boehner is standing in the way.
House Democrats are trying to force a vote on extending emergency unemployment benefits by means familiar to viewers of 
Legally Blonde 2
: a discharge petition. That requires the support of 218 members of the House, a level Democrats are extremely unlikely to achieve. But with John Boehner controlling what gets a House vote by any other means, a discharge petition both has as much chance of working as anything, and serves to 
build pressure on Republicans
—massive pressure being the only way Boehner will ever allow an unemployment aid extension vote.
Discharge petitions rarely get the 218 votes needed to force a vote on the House floor. Since 1931, when the maneuver took its current form, 563 discharge petitions have been filed but only 47 received 218 signatures, according to the Congressional Research Service. Over the past 30 years, seven petitions have made it to the signature threshold, and all of them received floor votes.But even if they don't expect to get 218 signatures, proponents argue that circulating discharge petitions can up the pressure. House Minority Leader Nancy Pelosi (D-Calif.) said as much last week when talking about plans to file a discharge petition for a comprehensive immigration reform bill. "We'll never get the 218 on the [immigration] discharge petition ... because the Republicans will generally not sign," she said in an interview on SiriusXM. "But the fact that it is there and the outside mobilization is saying, 'All we want is a vote' -- either sign the petition, which enables us to get a vote, or urge the speaker to give us a vote."
Emergency unemployment insurance for those who've been jobless for six months or longer expired on December 28; by now, 
two million people
 have lost the benefits they relied on. Senate Republicans have repeatedly blocked aid bills, claiming first that they wanted a pay-for, then that they ... wanted a different pay-for than Democrats had found. They've also raised repeated procedural objections, as if voters will be sympathetic over how many poison-pill amendments Republicans are or are not allowed to propose to delay and water down an unemployment benefits extension that should be absolutely routine and nonpartisan. Meanwhile, of course, the House speaker simply won't consider a vote on the issue at all. That's today's Republican Party for you.
Full Story
by admin
ORIGINALLY POSTED TO JOAN MCCARTER ON TUE MAR 11, 2014 AT 08:15 AM PDT.
ALSO REPUBLISHED BY DAILY KOS.
TUE MAR 11, 2014 AT 08:15 AM PDT byJoan McCarterFollow
The Julie Boonstra saga continues. Boonstra is the star of the 
most deceptive of the Koch brothers'
 anti-Obamacare "horror stories," and the one that has had to be debunked the most times. Here's one more, from 
The Detroit News
, and it turns out she's saving 
even more money
 than previous debunkings revealed.
Boonstra said Monday her new plan she dislikes is the Blue Cross Premier Gold health care plan—which caps patient responsibility for out-of-pocket costs at $5,100 a year, lower than the federal law's maximum of $6,350 a year. It means the new plan will save her at least $1,200 compared with her former insurance plan she preferred that was ended under Obamacare's coverage requirements.Boonstra's old plan cost $1,100 a month in premiums or $13,200 a year, she previously told The Detroit News. It didn't include money she spent on co-pays, prescription drugs and other out-of-pocket expenses By contrast, the Blues' plan premium costs $571 a month or $6,852 for the year. Since out-of-pocket costs are capped at $5,100, including deductibles, the maximum Boonstra would pay for all of her cancer treatment is $11,952 for the year. When advised of the details of her Blues' plan, Boonstra said the idea that it would be cheaper "can't be true." "I personally do not believe that," Boonstra said.
How very Republican of her, refusing to acknowledge the facts because they disprove her beliefs. Because she doesn't personally believe she'll actually be helped by Obamacare, she refuses to recognize the fact that it's true. Speaking of Republicans, remember how the Kochs have 
used Republican activists
 in their ads in New Hampshire?
Boonstra is the ex-wife of Mark Boonstra, the former Washtenaw County GOP chairman whom Gov. Rick Snyder appointed to the Michigan Court of Appeals in 2012. Julie Boonstra said she's never been a political person beyond advocating for lower-cost oral chemotherapy treatment in Washington.
Sorry, Ms. Boonstra, but I just personally do not believe that.
You can talk about this in Eclectablog's diary, too.
Full Story
by admin
SAT MAR 08, 2014 AT 10:55 AM PST by
Laura Clawson
Follow
for
Daily Kos Labor
President Barack Obama and Labor Secretary Thomas Perez
Here's yet another way Republicans and 
Republican spending priorities block justice for workers
. According to the Center for Public Integrity:
... the number of Labor Department judges, who hear a wide range of workers' compensation, immigration, wage and whistleblower cases, has fallen to 35 nationwide, from 41 in early 2013 and 53 a decade ago. The department's caseload, meanwhile, is soaring, forcing some sick and injured workers to wait years for benefits.
President Obama would like to begin to undo a small part of that damage:
President Obama's fiscal 2015 budget would add 10 people to the OALJ, though it's unclear how many would be judges and how many would be support staff. The proposal comes on the heels of a Feb. 18 letter to the White House from six members of Congress, who complained of "untenable delays in adjudicating claims, such as claims under the Black Lung Benefits Act and alleged violations of employment law. These delays directly and severely impact the lives of workers throughout the country, placing an undue financial and emotional burden on the affected individuals and their families."The lawmakers said a total of 11,325 cases were pending in the OALJ in fiscal 2013 — nearly double the number from 10 years earlier.
So Obama's hoped-for budget would likely still leave a lower number of judges than in 2013, and 2013 was already bad enough. We'll see what Republicans do with this request, but nothing in their recent record suggests that the likely response is "Wait, vulnerable, injured, and sick workers are waiting ridiculous amounts of time for justice for ways they've been hurt or wronged on the job? We have to fund the justice system to fix this!" (Ha ha ha, right?)(
Via
 Blogwood)
Continue reading for more of the week's labor and education news.
A fair day's wage
Education
A parent's letter to President Obama on schools and standardized testing:

Why does the law distill the interactions of our teachers and students over the course of a year into a high-stakes multiple choice test?  Is this really a valid system of accountability for teachers, based so heavily on their students' test scores?   If so, why are so many public school parents, teachers and students pushing back against it?  And why aren't the private schools insisting on it?In my daughter's English class at Clarke Central, students engage the works of Plato and learn to discern and make philosophical arguments about abstract concepts like piety; they read Hemingway and learn how to engage questions such as whether a protagonist's moral code can be attributed to the author.  You cannot pick "A, B, C, or D" for such things, or if you can, then the entire experience is trivialized. Of course assessments are a necessary part of any educational process, to help guide, inform and improve instruction, but the high-stakes test-and-punish regime now in place is not doing that.

Last week, New York City Mayor Bill de Blasio announced that he was withdrawing permission for three Success Academies charter schools to be co-located, rent-free, in public school buildings, ending the preferential treatment the chain had gotten from the Bloomberg administration. Tuesday, de Blasio planned a lobby day in Albany to build support for universal pre-K programs. In a stunning coincidence, Success Academies founder and former city councilwoman Eva Moskowitz decided to close her schools for the day to send students to Albany to lobby, not for pre-K, but for charter schools.Moskowitz drew criticism from Daniel Dromm, the chair of the city council education committee, and from the Rev. Al Sharpton. Moskowitz insists that she supports pre-K and wasn't intending to distract from the effort to build support for it. It's just that the thing she closes her schools for and buses kids a couple hours to lobby on is preferential treatment for charter schools, and it just happens to coincide with the pre-K efforts of a mayor who isn't following his predecessor's lead in giving her everything she wants. New York Gov. Andrew Cuomo also dove in to defend the poor beleaguered charter schools. I mean, they might not get every single public space they want, rent-free, even as their executives pull in big salaries. The horror.
Speaking of charter schools, the founder of some North Carolina charters is under federal investigation.
Full Story
by admin
Supporters of a low minimum wage are always predicting economic doom if it's raised. But there are some 
very obvious answers
 to that. Like Washington state, which raised its minimum wage in 1998, tying it to inflation so that it goes up regularly:
In the 15 years that followed, the state's minimum wage climbed to $9.32—the highest in the country. Meanwhile job growth continued at an average 0.8 percent annual pace, 0.3 percentage point above the national rate. Payrolls at Washington's restaurants and bars, portrayed as particularly vulnerable to higher wage costs, expanded by 21 percent. Poverty has trailed the U.S. level for at least seven years.
So, above-average job growth, including in the low-wage restaurant industry, and below-average poverty. Good thing we have Republicans and restaurant industry lobbyists saving us from this horror at the national level.
Sign the petition: Thank President Obama and join the call for a higher minimum wage.
Full Story
by admin
TUE MAR 04, 2014 AT 11:12 AM PST
attribution: Maine Department of Education
Maine Gov. Paul LePage
When Maine Gov. Paul LePage held a meeting with unemployment hearing officers last year and told them they were 
deciding too many cases in favor of workers
, he endangered the fair-hearings process, according to a review by the U.S. Department of Labor. 
Not only that:
The federal review showed that the administration's labor commissioners have intervened in the work of hearing officers by questioning them about decisions they have made in individual cases, which "could be perceived as an attempt to influence the appeals decision-making process in favor of employers."The review also says that Maine's system for handling unemployment appeals doesn't always meet federal guidelines and should be revised in certain technical areas, related to the handling of evidence and the legal weight given to rulings by the state's Unemployment Insurance Commission.
These conclusions have spurred a back-and-forth between LePage and Democratic legislators, with state Sen. Troy Jackson, a Democratic candidate for the U.S. House, calling for LePage's impeachment and LePage 
responding
 "if he has a cause, then bring it on." More to the point, it's an election year. LePage has given Democrats plenty of ammunition to run with, and the federal government concluding that yes, he did try to improperly pressure unemployment officers to decide against workers is certainly something to campaign on.
ORIGINALLY POSTED TO DAILY KOS LABOR ON TUE MAR 04, 2014 AT 11:12 AM PST.
Full Story
by admin
 Originally posted for The Huffington Post  | by  Emily Cohn
Comcast's planned takeover of Time Warner Cable might win it a huge share of the U.S. cable market, but it is not winning the hearts and minds of its customers. Consumer perceptions of both companies have collapsed since Comcast announced on Feb. 13 it was buying Time Warner Cable in a 
$45 billion deal
, as you can see from the chart below. (Story continues after chart.)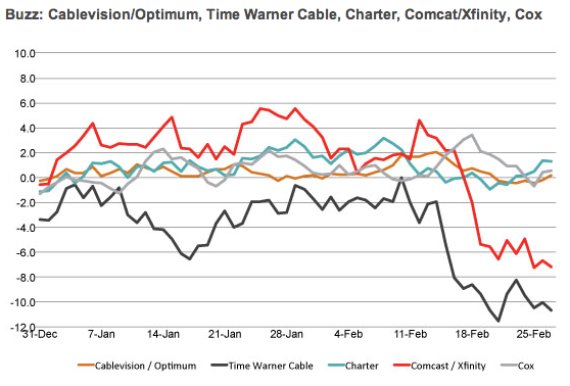 The chart comes 
from YouGov BrandIndex
, which tracks brand perception of major companies on a daily basis. The lines represent the "buzz," or consumer sentiment, for five large cable providers. YouGov measures buzz by asking poll respondents: "If you've heard anything about the brand in the last two weeks, through advertising, news or word of mouth, was it positive or negative?" As you can see, buzz for cable companies tends to be pretty neutral, with most scores hovering around zero. But that all changed with news of the deal, which 
some think
should be blocked by the government based on what it would do to competition in the cable industry. YouGov's numbers aren't totally surprising. After all, the deal is probably going to be bad news for consumers, who are already 
paying extraordinary amounts
 of money every month for cable. The deal would also combine the two 
lowest-scoring cable companies
 in the American Customer Satisfaction Index. "A lot of noise in the media about a merger is apt to temporarily influence any brand," a representative from Time Warner Cable told The Huffington Post in an emailed statement. "This year, we remain on course to introduce substantial changes in our service -– including tripled to quadrupled Internet speeds, a new more modern TV interface, doubling of our On Demand library and an even more reliable network –- all of which we believe customers will cheer over." Comcast did not immediately respond to HuffPost's request for comment on the YouGov data, though the company has 
maintained
 that a deal wouldn't stifle competition in the industry. That said, the buyout would give the cable conglomerate outsized control of the cable market. Here's a chart from 
Reddit
, using stats from Wikipedia, that shows what the cable market might look like post-merger: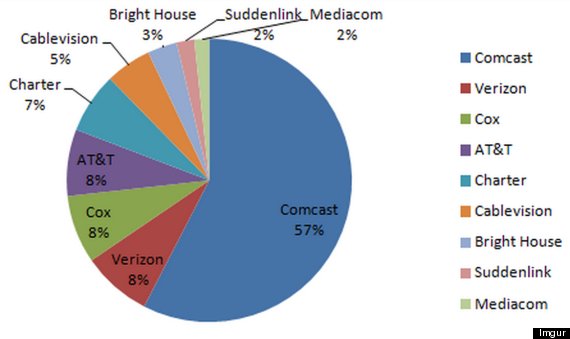 Full Story
by admin
Originally posted for
Daily Kos Labor
 by 
Laura Clawson
Follow
 THU FEB 20, 2014 AT 08:52 AM PST
South Carolina Gov. Nikki Haley
South Carolina Gov. Nikki Haley doesn't want companies to bring more jobs to her state—at least 
not if they're the wrong kind of jobs
. "Wrong kind" here means not low-wage jobs, or unsafe jobs, but union jobs:
Haley said Wednesday that she discourages companies from building new facilities in South Carolina if they are planning to bring a union with them."It's not something we want to see happen," she told the Greenville News following an appearance at an automotive conference in downtown Greenville. "We discourage any companies that have unions from wanting to come to South Carolina because we don't want to take the water."
Yeah, take your stinking living-wage jobs and shove 'em!What exactly is Haley so afraid of? Republicans often claim they just don't think unions are good for workers. But worse that unemployment, if that's the alternative? And if you really believe that, exposed to unions, workers will reject them, wouldn't it be good to occasionally allow some unions in to remind workers how awful they are? After all, no one can be made to join a union, and in anti-union South Carolina, workers can get the benefits of union representation, should they want them, without paying the costs. It's almost like Haley is worried that unions might be ...catching, like a few big unionized workplaces might make workers at other South Carolina businesses interested in joining unions themselves. Because the idea that a governor would reject jobs simply because a union might be an option? That's just crazy unless there's something else going on. Right?
Full Story
by admin
Daily Kos group
WED FEB 19, 2014 AT 08:28 AM PST by
Sandy on Signal
Follow
for
Three Star Kossacks
Last Friday, Volkswagen workers in Chattanooga voted against having UAW represent them.  This was a shock to many because initially the workers supported it.  By Friday, Sen. Bob Corker, State Sen. Bo Watson and Rep. Gerald McCormick's threats and intimidation caused the workers to worry they might be responsible for shutting the plant down or not having it expand by manufacturing the new SUV. Corker was smug and gleeful.  After the vote, he told the 
Media
:
"Needless to say, I am thrilled for the employees at Volkswagen and for our community and its future."
Corker may be thrilled, but VW and many others are disappointed by his interference and fear-mongering.  From 
Reuters: VW workers may block southern US deals, if no unions
"I can imagine fairly well that another VW factory in the United States, provided that one more should still be set up there, does not necessarily have to be assigned to the south again," said Bernd Osterloh, head of VW's works council."If co-determination isn't guaranteed in the first place, we as workers will hardly be able to vote in favor" of potentially building another plant in the U.S. south, Osterloh, who is also on VW's supervisory board, said.
Osterloh added:
"The conservatives stirred up massive, anti-union sentiments," Osterloh said. "It's possible that the conclusion will be drawn that this interference amounted to unfair labor praxis."
Heckuva job, Corkey!  Your interference will cost Chattanooga in terms of jobs, plus all the incentives given to bring VW here.   Sen. Corker it is YOU that is the 
laughingstock
 of the world.
Full Story
by admin
ORIGINALLY POSTED TO NOISE OF RAIN ON TUE FEB 18, 2014 AT 05:32 PM PST.
If unions want to matter, they gotta get up and do stuff.
 The University of Illinois - Chicago staff and teachers are striking for better wages and working conditions. Yes, they do it for themselves, but mostly, they do it to sustain a deep relationship with students. Nobody gets into the business of teaching if they don't care about the mission of education. Tonight, passersby were greeted on the streets with the following message brought out by striking teachers and the 
Overpass Light Brigade - Chicago
 who are braving some pretty snowy sidewalks and streets to hold their message high.
attribution: None Specified
attribution: Overpass Light Brigade - Chicago
And if you want to see some dedication, this is what the activists and organizers did this afternoon to prep and shovel the sidewalk on the overpass for the Holders of the Lights to be able to stand amidst the icy drifts:
attribution: Dawn Teft
Full Story